When:
June 19, 2017 – June 24, 2017
all-day
2017-06-19T00:00:00-07:00
2017-06-25T00:00:00-07:00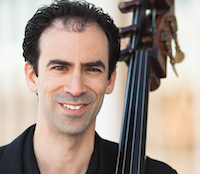 DCBass, an intense, informative, and engaging double bass workshop will take place June 19-24, 2017 at The Peabody Institute in Baltimore, MD. Bass Faculty are Paul DeNola, National Symphony Orchestra member and faculty at American University, and Ira Gold, National Symphony Orchestra member and faculty at Peabody Conservatory. The faculty are eager to help launch your playing to the next level. Program will include private lessons, technique classes, orchestral repertoire classes, and solo masterclasses. In addition, each participant will have the opportunity to rehearse and perform a duet with one of the bass faculty. Acceptance is by recorded video audition only.
Recommended ages 18 and up.
Room and board are provided.
Application: Please email to dcbasscamp@gmail.com the following information – name, address, email, current school, age, current and major teachers (last five years). Please provide a short description of your ensemble experience. There is no application fee.
Audition: no more than 10 minutes – include solo of choice and two excerpts from the standard orchestral repertoire. Tracks may be separated. Recorded video submission may be emailed directly to dcbasscamp@gmail.com or upload your video to Dropbox and email us a link to view.
Application and Audition must be received by March 19, 2017
Tuition: $495
Rooms: Single ($90 per night), Double ($45 per night)
Meal Plan: $170 (total for week)
Two merit-based scholarships for a tuition waiver will be awarded.
Scholarships do not waive room and board costs. Students attending DCBass are expected to live on the Peabody campus for the week.
Enrollment will be limited to twelve students.
Accepted applicants will be notified before April 15, 2017.
Excerpt materials for camp study and chamber music repertoire will be available once applicants have verified his/her acceptance to DCBass.
For any additional questions, please contact Ira and Paul at dcbasscamp@gmail.com
Daily Schedule
10:00 – 11:00 Group Warmup and Technique
11:15 – 12:15 Lessons/Practice
Lunch
1:00 – 2:30 Orchestral Repertoire Class
2:45 – 3:45 Lessons/Practice
4:00 – 5:00 Solo Masterclass